On our rubber keypad controller there are two buttons and two multi-color status lights.  They are labelled A and B as you can see in this image.
Each of those two lights can be in one of five states – 1) Off    2)Red   3)Green   4)Blue   5) White.
That gives twenty-five different LED effects that you can select from. Some are steady colors.  Others have a twinkle pattern.  Some of them are sound-responsive, which means there's no light unless you play the harp.  Then the lights and colors come on according to the loudness of your playing, and fade out when there is silence.  The combination of light and movement and sound will create a dramatic effect that audiences will enjoy and remember for a long time.
Click on the image below to go to the video: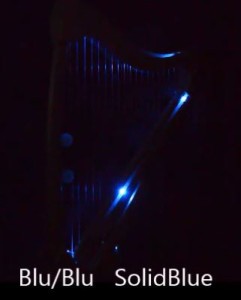 Beautiful deep blue is only one of 25 LED colors and effects