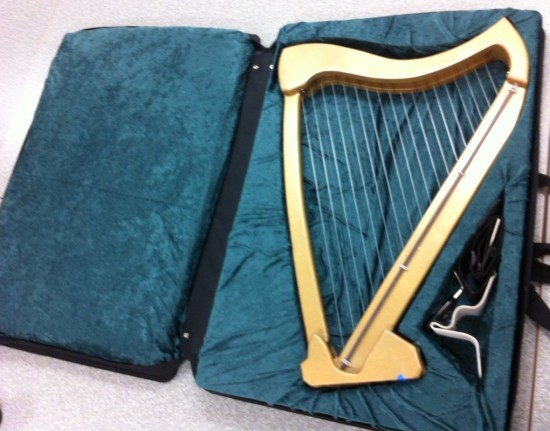 Zippered, hard-sided bags provide a high degree of protection for your harp, while adding only minimal weight.
The harp is cradled in velvet cloth over a strong resilient foam core. Baltic birch plywood provides extreme puncture resistance on the two large faces as well as all around the sturdy gusseted canvas case.
You can confidently pack your instrument in with the suitcases, amplifiers, and microphones when it is armored in this soft and protective case.
A shoulder strap on the bag leaves your hands free for long walking commutes thru airports, etc, and a comfortable luggage handle completes the carrying options. The sturdy gusseted shape means the bag can be stood on edge or leaned against a wall when you put it down.
An external velcro closed pouch can carry sheet music, set lists, or performer ID etc, and internal wells in the construction are designed for straps and other small accessories.